The rock gardens surround areas of intense planting where a variety of shrubs and plants feature in the different seasons. Please click on the images.
The memorial area is surrounded by beautiful serpentine rock. The family name is placed on a granite plaque and attached to the headstone rock.
Memorial Plaques
The plaques are highly polished natural stone and an inscription of your choice is engraved on the stone by our on site laser engraver, ensuring an everlasting memorial.
The rock gardens are designed for two internments however more can be accommodated after discussions with our staff.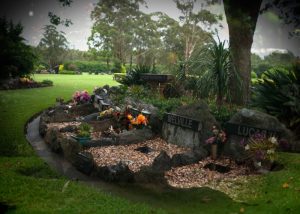 All our memorials require the payment of one fee only as perpetual maintenance is provided. The fee is all inclusive and includes the memorial plaque.
Payment Plan
A payment plan is available for all reservations, memorial purchases and pre paid cremation certificates. A deposit is payable and regular payments are made. Please discuss the details with our staff or read more on our pre-purchase page.