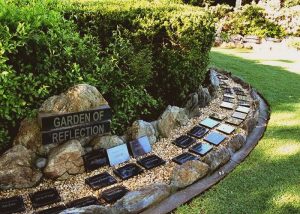 A memorial plaque is placed in our Garden of Refection for everyone cremated at MGLMG. This is a complimentary service.
While you are deciding on the appropriate memorial please feel free to visit and place flowers or just stay a while in the gardens.
Payment Plan
A payment plan is available for all reservations, memorial purchases and pre paid cremation certificates. A deposit is payable and regular payments are made. Please discuss the details with our staff or read more on our pre-purchase page.